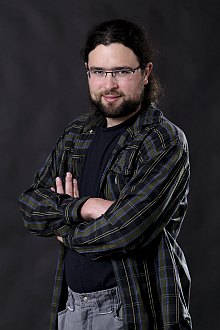 Jakub Těšitel

* 1. května 1983 v Pardubicích

Vzdělání

Bc. (obor biologie) - Biologická fakulta JU, diplomová práce: Variabilita Melampyrum sylvaticum agg. v části Střední Evropy
RNDr. (obor botanika) - Biologická fakulta JU, diplomová práce: Variation in the Melampyrum sylvaticum group, rigorózní práce: Variation in the Melampyrum sylvaticum group within the transitional zone between M. sylvaticum s. str. and M. herbichii.
PhD (obor botanika) - Přírodovědecká fakulta JU, disertační práce: Biology of the Root-Parasitic Rhinanthoid Orobanchaceae
Témata výzkumu
Biologie (polo)parazitických rostlin z čeledi Orobanchaceae: ekologie, evoluce, fyziologie
Fylogeografie Melampyrum sylvaticum na evropském kontinentě
Morfometrika a statistické analýzy dat na čemkoliv
Publikace
2011
Těšitel J, Lepš J, Vráblová M, Cameron DD (2011) The role of heterotrophic carbon acquisition by the hemiparasitic plant Rhinanthus alectorolophus in seedling establishment in natural communities: A physiological perspective. New Phytologist 192:188-199.
Holá E, Kučera J, Těšitel J (2011) Comparison of gemma production among three lophozia species during the growing season. Flora 206: 763-768.
Flajšhans M, Pšenička M, Rodina M, Těšitel J (2011) Image cytometric measurements of diploid, triploid and tetraploid fish erythrocytes in blood smears reflect the true dimensions of live cells. Cell Biology International, 35:67-71.
2010
Těšitel J, Plavcová L, Cameron DD (2010): Heterotrophic carbon gain by the root-hemiparasites Rhinanthus minor and Euphrasia rostkoviana (Orobanchaceae). Planta 231:1137-1144.
Těšitel J, Plavcová L, Cameron DD (2010) Interactions between hemiparasitic plants and their hosts: The importance of organic carbon transfer. Plant Signaling and Behavior 5:1072-1076.
Těšitel J, Říha P, Svobodová Š, Malinová T, Štech M (2010) Phylogeny, life history evolution and biogeography of the Rhinanthoid Orobanchaceae. Folia Geobotanica. 45:347-367.
Pšenička M, Tesařová M, Těšitel J, Nebesářová J (2010) Size determination of acipenser ruthenus spermatozoa in different types of electron microscopy. Micron 41:455-460.
Bláha M, Hulák M, Slouková J, Těšitel J (2010) Molecular and morphological patterns across Acanthocyclops vernalis-robustus species complex (Copepoda, Cyclopoida). Zoologica Scripta 39: 259-268.
Hulák M, Kašpar V, Kohlmann K, Coward K, Těšitel J, Rodina M, Gela D, Kocour M & Linhart O (2010) Microsatellite-based genetic diversity and differentiation of foreign common carp (Cyprinus carpio) strains farmed in the Czech Republic. Aquaculture 298: 194-201.
2009 a starší
Těšitel J, Malinová T, Štech M, Herbstová M (2009) Variation in the Melampyrum sylvaticum group in the Carpathian and Hercynian region: two lineages with different evolutionary histories. - Preslia 81: 1-22.
Pšenička M, Vancová M, Koubek P, Těšitel J, Linhart O (2009) Fine structure and morphology of sterlet (Acipenser ruthenus L. 1758) spermatozoa and acrosin localization. - Anim. Reprod. Sci. 111:3-16.
Těšitel J, Štech M (2007) Morphological variation in the Melampyrum sylvaticum group within the transitional zone between M. sylvaticum s. str. and M. herbichii.- Preslia 79: 83-99.
Kolář F, Kubešová M, Těšitel J , Koutecký P (2007) Květena vesnic v CHKO Blanský les. - Zprávy Čes. Bot. Společ. 42: 89-104.
Granty
Evolution of ecological strategies and life history traits in relation to physiological adaptations in the Euphrasia group (Orobanchaceae)
Grantová agentura AV ČR 2008-2011 (spolupracovník, hlavní řešitel Jan Š. Lepš)
Ecology, physiology and evolution of life histories of hemiparasitic plants in the Rhinanthus-Euphrasia-Melampyrum clade (Orobanchaceae)
Grantová agentura Jihočeské univerzity 2008 (hlavní řešitel)
Výuka
Biologie parazitických rostlin
Ekologie pro 1. ročník (cvičení)
Terénní praxe I.
Biostatistika (cvičení, příležitostně)